NEW Tank Tops are here!
Introducing our newest addition to the narrative shifting lineup! This unisex tank top features the The Lucky Few logo on the front and signature TLF face across the back. Whether you're hitting your next DS event or lounging around, this tank top is a perfect addition to your advocacy wardrobe.
ORDER TODAY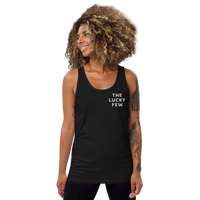 Everyone Belongs is NOW Available Everywhere
Heather's latest release, Everyone Belongs, is a joyful rhyming book that encourages children to not only value all people but to also make room for their differences in order to make a better, brighter, and more beautiful world.
Inspiring, encouraging, and packed with joy, Everyone Belongs reminds us that it's possible to make room for all people and all abilities—and that life is brighter when we give every person a chance to shine.
ORDER TODAY
Sheep Farm Felt Collaboration
To celebrate the release of Everyone Belongs, we've teamed up our friends at Sheep Farm Felt to create a series of beautiful, bundled products.
Shop the Everyone Belongs Pocket Pals Play Set today—which includes seven felt characters from the cover—six of whom have a disability—and a felt backdrop, all made from 100% New Zealand wool.
The play set makes a great and unique gift for kids of all ages!
Shop The Bundles
May Designs
In collaboration with our good friend Mica May over at May Designs, we launched an incredible collection for World Down Syndrome Day 2022!
By shopping our collection of notebooks, journals, drinkware, and stationery you are joining an international group of narrative shifters, working to create a more inclusive world where everyone belongs. Bonus: all purchases support The Lucky Few Foundation!
SHOP NOW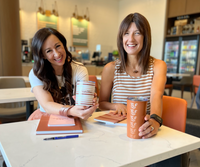 Different - A Great Thing To Be!
This joyful rhyming book encourages children to value the "different" in all people, leading the way to a kinder world in which the differences in all of us are celebrated and embraced.
ORDER TODAY
Grab a copy today!
Scoot Over and Make Some Room tells hilarious stories of Heather's growing kids—spontaneous dance parties, forgotten pants, and navigating the challenges and joys of parenthood. She shares heartbreaking moments when her kids were denied a place at the table and when she had to fight for their voices to be heard. With beautiful wisdom and profound convictions, this manifesto will empower you to notice who's missing in the spaces you live in, and to make room for your own kids and those who need you and your open heart.
Get the book here